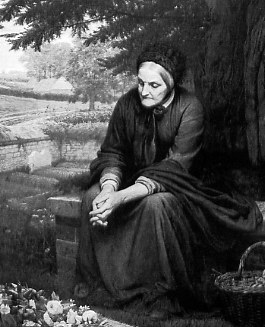 John Everett Millais: The Widow's Mite (1870)
I read the Carrot Ranch Flash Fiction Challenge
yesterday, and began to set up the blog post for a lighthearted piece about the minerals in a pinch of dirt:
June 24, 2015 prompt:
In 99 words (no more, no less) write a story about dirt. You can go with the idea of digging into the dirt as an analogy, or you can be realistic. Maybe a character has "the dirt" on someone or another has "dirty laundry" to hide. Dirt can be rich soil or barren. Get dirty, but not shockingly dirty!
Suddenly, the power goes off. Hottest day of the summer so far, I think, so of course we get brownouts from the surge of air-conditioning. I pick up my Kindle (fortunately, fully-charged) and go off into the sunny living room to read until the power comes back on.
3 PM: I get a call from the power company informing me that a crew is "in my area" addressing the problem, and they expect to restore service by 6 PM.
6:15 PM: Still no power. I call PG&E, and discover that an update from 20 minutes before has moved the restoration of power out to 8 PM. Annoyingly, they tell me I can go online to get updates from their Web site. Dude! If I could go online, I wouldn't be calling about a power outage!
8:15 PM: I feed the cats early so I can move to the still-sunlit bedroom and keep reading. Call PG&E and find that again I've missed the update; restoration is now predicted for 10 PM.
9:25 PM: Just about ready to put down the Kindle for sleep when the lights come on. I pull out of bed and trudge around shutting off what had been switched on when the power went out. With gratitude I turn on the bedroom fan and lie back down.
3:25 AM: Wake sweating from a nightmare about watching a grieving spouse at graveside. As I order my thoughts to calm my pulse so I can get back to sleep, I realize my "dirt" flash will not be lighthearted at all. No, indeed.
_______________________________
Clay
Fingernails dig into my palm around the handful of dirt. All except the grave is hazed with tears, but the box below me is sharp-focused despite them.
Sam! Even so many years is too few! I knew I would lose you. Each stroke brought a clearer recognition of the coming loss, but even so, I never really believed I would remain, bereft, and you would perish.
I still see you, immobile beneath the closed lid. A calm voice says, "That is not Sam, it is only clay, Mamaw." A gentle hand unclasps my fingers to let the dirt fall.