I've noticed a number of movies recently share a strong theme
—
at least a sub-text
—
of the divide between cultures, often presented as an explicit culture gap. Perhaps because Bollywood generates actors able to cross the divide, many such movies are set in India, or involve Indians coming to America. But not always.
For your consideration, I present a half-dozen movies I have recently watched for the first time or enjoyed in reprise. All share a sense of humor at the idiocies of one culture as perceived by another, a sense of wonder when the other culture finally connects with ones own, and a solid sense of the worth of each culture, however different. Each in its own way is a gem.
Million Dollar Arm
This is first, because it is based on a true story. Faced with a lack of six-figure sports talent for his nascent agency, the sublimely self-centered JB (portrayed by Jon Hamm) is watching Susan Boyle win Britain's Got Talent, flipping between that and cricket finals (a favorite of his partner Aash, played by Aasif Mandvi) when the solution comes to him. He will stage a sports competition in India to find fast cricket bowlers, then bring the best two to the US and teach them to be league-level baseball pitchers.
He will literally find and then train his own Million Dollar Arm.
Both winners come from the same small village in India and speak little English, so JB must also bring an interpreter, Amit (Pitobash), who yearns to coach baseball.
The story is rich in clashes of culture: JB is solitary, a workaholic and serial womanizer who focuses on models, while the Indians are deeply drawn to family and community. Staying in his pristine house, they immediately set up a small shrine for worship. We can tell from JB's reaction that he has never needed religion. The boys are from a rural Third World society (although Amit is less so, because he is from Mumbai), so they have never encountered the appliances and gadgets JB takes for granted.
Even the differences between cricket and baseball are mined in support of the theme: Tom House, a well-known baseball pitching coach (Bill Paxton), is recruited to help the boys shift their bowling arms to pitching moves.
With the help of Brenda (Lake Bell), an intern doctor who rents an apartment on JB's property, all three Indians, and seasoned scout Ray (brilliantly presented by Alan Arkin), who scouts with one or both eyes shut, but still sees more than JB, JB gradually finds his way to cross the divide.
We might have to tweak that a little.

—Tom House (Paxton), on seeing Dinesh's "flamingo" pitching stance.
The Internship
I have an up-and-down history with movies starring Vince Vaughn. Sometimes his character is so wishy-washy, he is unlikable or unrelatable. This is decidedly not true of The Internship.
One of the movies reviewed in this post that does not explicitly mention India as a source of culture conflict, this story nevertheless stars Aasif Mandvi as Mr. Chetty, the manager of the internship program at Google. Down-sized salesmen Billy McMahon (Vaughn) and Nick Campbell (Owen Wilson) are competing with a hundred recent tech graduates for a single Google internship.
The two older men are outclassed from the start by the crop of bright, focused, tech-savvy individuals who all desire to work at Google—provided they can prove they have sufficient "Googliness" to qualify.
This sets up multiple levels of cultural divide: sales-focus vs. tech-focus, network- and social-media-savvy vs. the total cluelessness of Billy and Nick, and even the workplace ethics of Mr. Chetty vs. the more free-wheeling sales bonhomie that had served Billy and Nick in their previous jobs.
The team competitions become cutthroat as the group "saddled" with Billy and Nick first isolate them, then come to value their experience and knowledge. In the end, not only do Billy and Nick manage to cross the divide, but they bring their teammates with them to a better stance than any of them had known was possible.

Billy McMahon: That being said, if you want something cold to drink, we'll hook you up.
Stuart (Dylan O'Brien): I'm OK, thank you. Just please, stop talking to me.
Billy McMahon: I'm your Bill Holden in Stalag 17.
Stuart: I don't even... I really don't get that reference.
Billy McMahon: Google it.
The Best Exotic Marigold Hotel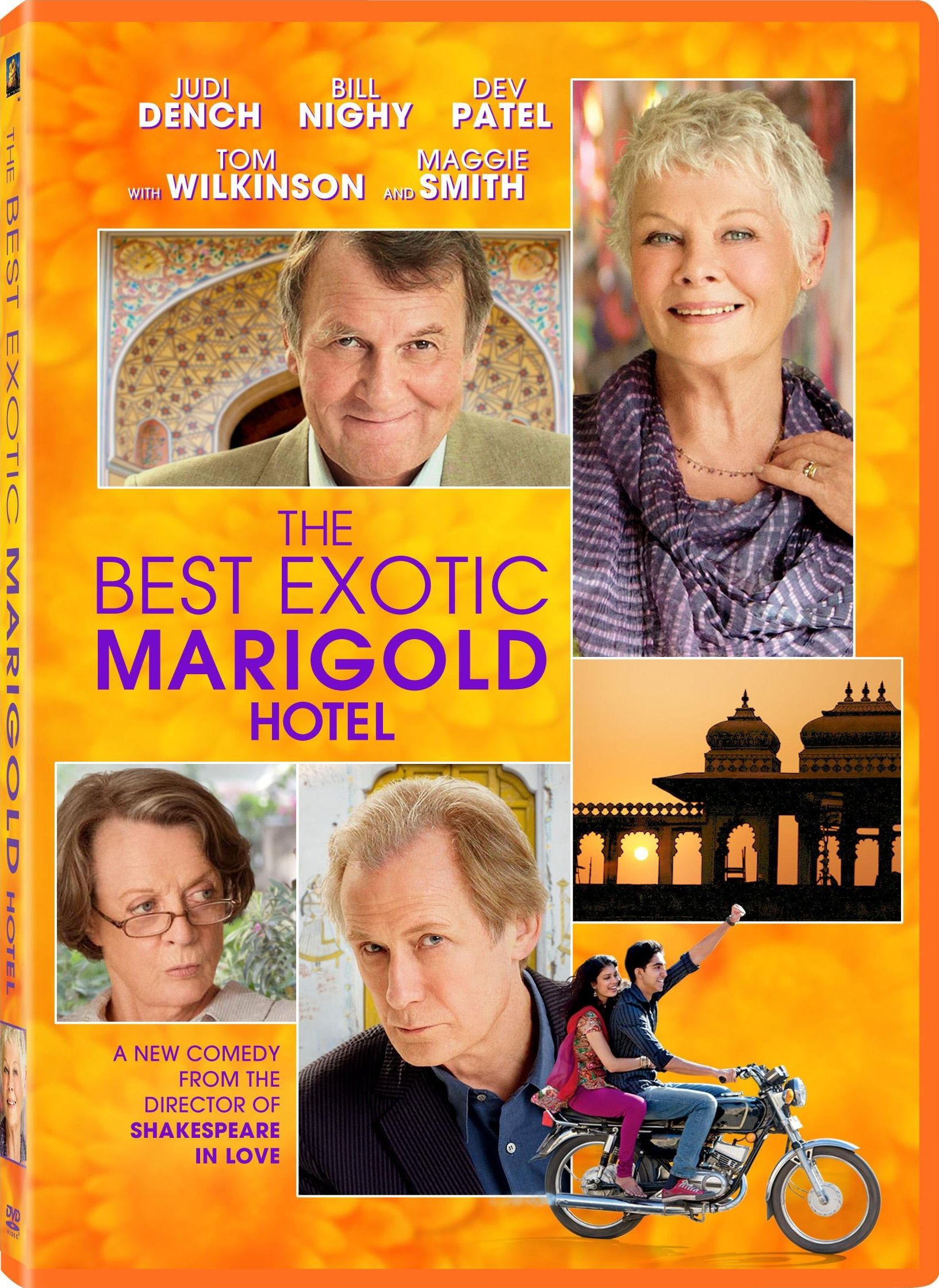 This is easily the most beautiful of the six movies, and certainly the one with the most stellar cast. Judi Dench, Maggie Smith, Celia Imrie, and Penelope Wilton, Tom Wilkinson, Bill Nighy, and Ronald Pickup are all seasoned British actors, which gives them an additional gravitas in the portrayal of older British citizens who come to India to live in a newly renovated luxury hotel.
Each has a distinct reason to relocate to The Best Exotic Marigold Hotel: the Ainsleys (Nighy and Wilton) hope to parlay their greatly reduced retirement cushion into a more luxurious place than they could afford back home; Norman Cousins and Madge Hardcastle (Pickup and Imrie) want to find romantic partners in an exotic setting where they can inflate their social status; Graham Dashwood (Wilkinson) hopes to reconnect with the India of his youth.
Evelyn Greenslade (Dench) is not so much coming to India as escaping from a life where she feels disconnected. And Muriel Donnelly (Smith), a "discarded" nanny, is in India under protest, because it is the only place she can afford to have the surgery and recuperative therapy she needs.
The clash of cultures begins before the troupe even leave England. Muriel is deeply fearful of ethnic differences; she insults her English doctor and therapist with her complaints about Indians. The divide between the easy-going Douglas Ainsley with his acceptance of new experiences and his bitter, social-climbing wife Jean is revealed through their interactions with all about them. Norman and Madge each deny their advancing age, yet have developed different ways of dealing with that denial.
Their individual reactions and the way they each cope with disappointment is shown by their reactions when they come to the hotel, and find that its luxury and renovation was somewhat exaggerated by the young entrepreneur, Sonny Kapoor (Dev Patel).
Another cultural chasm is shown as Dashwood tries to connect with his childhood love.
And finally, we add the clash of English vs. Indian culture, along with the explicit clash between young and old in any culture. Across these separate divides, it will require all the wisdom and love they can each gather, before they can experience the charm of the life they have chosen.
The only real failure is the failure to try. And the measure of success is how we cope with disappointment. As we always must. We came here, and we tried. All of us, in our different ways. Can we be blamed for feeling we're too old to change? Too scared of disappointment to start it all again? We get up every morning, we do our best. Nothing else matters.

—

Evelyn (Judy Dench)
The Air Up There
Jimmy Dolan (played by Kevin Bacon) would be a better basketball coach if he could rein in his competitive nature. But he just can't resist the urge to show up his prospects, and this behavior is putting his chances of promotion at risk.
He needs a star to replace the last recruit he chased away. So Dolan takes off half-way around the world to recruit a high-flying basketball player glimpsed in the background of a missionary video.
The Air Up There is more rarified than Dolan realizes when he leaves for Africa, though.
Prospective star Saleh (engagingly portrayed by Charles Gitonga Maina) is head-and-shoulders taller than Dolan, is accustomed to playing the game at the missionary school in his heavy leather shoes—and he is the chief's son in a tribe with big problems.
Dolan finds it hard at first to believe that Saleh is not willing to return to the States to play professionally. He sets out to teach this rural boy about the game, and in the process he learns how to inspire a team that includes a short, rotund line-backer-style player, a non-sterotypical nun ("Sister! You can say bullsh*t!?" "Only if I really mean it."), and Saleh's sister. He applies his African experiences to the game ("This is a play I call 'Warthog in the Weeds'"), and finds a solution to the local problems that benefits the whole tribe.
Above all, he learns that what he himself wants is less important in coaching than discovering what his players want, and finding a way to deliver it.
The cultural clashes are presented here with a heavier hand, and the humor is a bit more earthy, than the similar tale in Million Dollar Arm
—
which was, after all, a Disney movie.
Saleh: You came halfway around the world to watch me play this basketball?
Jimmy Dolan: That's what I said.
Saleh: (pointing to his head) Are you healthy up here?
Jimmy Dolan: Never said that.
Bagdad Cafe (

also titled:

Out of Rosenheim)
Tightly coiffed and buttoned in her wool suit, a plump German lady is abandoned in the middle of the desert by her husband. Despite the boiling heat and her distraction by unearthly sun-dogs cast into the sky from the nearby solar array, she wheels her suitcase from the roadside stop to the remote gas-stop motel and
Bagdad Cafe
.
Jasmin,
Mrs. M
ü
nchgstettler (played with earthy beauty by Marianne Sägebrecht), meets cafe manager Brenda (CCH Pounder), and immediately imagines savages dancing to pounding drums. Still, she gathers her courage and checks into the motel. But when she goes to unpack, she finds her husband has left her with his suitcase, and she has only the wool suit she walked out of the desert in, his lederhosen and wadenstrümpfe, and his magic kit.
Jasmin's initial fear of the unknown (anything not out of Rosenheim like her Bavarian coffee thermos) is equally matched by Brenda's suspicions about her German guest whose room is filled with men's clothing. The story is told in a series of vignettes, by turns humorous and sensuously beautiful. Much of the beauty comes as Jasmin unfolds from her fearful tight stance, gradually becoming part of this desert community that revolves around the family at the cafe.
She encourages the young pianist, Brenda's son Salomo (Darren Flagg, whose constant practice of Bach's C-Major Prelude is the only music in the movie not written by Bob Telson), and her daughter Phyllis (Monica Calhoun) to hang out in her hotel room while she plays with the baby. She agrees to pose for resident artist Rudi Cox (Jack Palance) once she learns he painted the picture of the sundogs in her room.
As Jasmin overcomes her own fears, she gradually wins over Brenda's suspicions and becomes a true member of the culture she has joined. By accident and diligent effort they all manage to cross the divide between them.
Jasmin: (Seeing at Rudi's painting showing sundogs behind her face) That's my vision!
Rudi: I like that word.
Jasmin: Oh?
Rudi: Vision.
Outsourced
The final movie in my culture-gap review list comes full circle to India.
When the entire boiler-room operation of a catalog sales company is Outsourced to India, hard-driving manager Todd Anderson (Josh
Hamilton) is sent to bring the Indian staff up to speed.
As is true for any instructor, he who teaches, learns. "Mr. Toad" (the way his assistant manager Puro, played by Asif Basra, persists in naming him) strives to teach his Indian call-center employees to masquerade as Americans on the phone, with varying results. What he accomplishes is achieved by allowing his star phone-salesperson, Asha (Ayesha Dharker), to be wholly Indian, yet still make sales of thoroughly American gimcracks and nicknacks on the phone.
The beauty of the film lies in the way it highlights the differences between the two cultures, yet gives each their own dignity and strength. Todd and Asha connect, but so does Todd connect with India. In the end, the romance between man and culture is the most enduring.
Todd Anderson: I've noticed that almost everyone signed up for the incentive program, except you. Don't you want anything?
Asha: (looking at the My Hot Dog toaster product) What would I do with this? I'm a vegetarian.
Todd Anderson: Maybe it works with carrots...